Call for Papers: Periodicals In-Between (27-29 June 2018, Paris)
Periodicals in the Ecology of Print and Visual Cultures
7th International Conference of the European Society for Periodical Research
27–29 June 2018 in Paris
(French version below)
The 7th annual conference of the European Society for Periodical Research will explore how periodicals from the eighteenth to the twenty-first century function as mediators of alternative or experimental forms of publication and as springboards for other publishing and cultural activities. Many periodicals gave birth to publishing houses by using their printers' networks and by treating their issues as experimental or more conventional test cases and economic drivers both in the book and the print industry and in the arts and crafts. Often, the periodical is a vehicle for science enthusiasts, trade or professional organisations, literature and arts connoisseurs: volumes of aggregated materials published over the year, then bound in hard covers to resist time, respond to the needs of such readers. Or the opposite may be the case: publishers or galleries issue a periodical or magazine to underpin their publication list, to foster their artists, to test new formulas or to retain their audience. The phenomenon extends to prints, both as bonuses to subscribers and as original works. The study of such a phenomenon in its international scope would highlight the relations of periodicals with the world of publishing, art galleries, various salons and circles of influence, as well as with several alternate forms of publication, of new ideas, trends, and manifestos.
How is the standard history of book and print publishing extended by more nuanced considerations of media structures – economic and symbolic – that focus on the role of periodicals? What questions emerge when we consider periodicals as key drivers of print and visual cultures, the materiality of publications, their exchange value, and their function as cultural operators? We invite papers, panels, round table proposals that address these issues.
Topics could include but are not limited to:
Periodicals and publishing houses
Periodicals and galleries or salons
Periodicals and print networks
Periodical economies
Periodicals and intertextuality; hybridization; remediation
Parts; instalments; supplements; annuals
Periodicals and prints for subscribers
Periodicals and print-outs
Periodicals and albums
Periodicals as bound volumes/"books"
Quotidian periodical cultures
Alternative periodical cultures
Please send proposals in either English or French for 20-minute papers (max. 250 words), panels of three or four papers, round tables, one-hour workshops or other suitable sessions, together with a short CV (max. one page), to This email address is being protected from spambots. You need JavaScript enabled to view it.. The deadline for proposals is 31st January 2018.
---
LES PERIODIQUES COMME MEDIATEURS
Les périodiques dans l'écosystème de la culture imprimée et visuelle
7e Colloque International de la European Society for Periodical Research
27–29 Juin 2018 à Paris
Le 7e colloque international de la European Society for Periodical Research (ESPRit) abordera les périodiques comme médiateurs de publications alternatives ou expérimentales et comme tremplins vers d'autres activités éditoriales et culturelles du XVIIIe au XXIe siècle. De nombreux périodiques ont en effet donné naissance à des maisons d'édition en recourant aux réseaux de leurs imprimeurs, en testant dans leurs livraisons des formules expérimentales ou plus conventionnelles, et en devenant des moteurs économiques dans les domaines du livre, de l'imprimé, des arts, de l'artisanat et des métiers. Souvent, le périodique est un véhicule pour les amateurs de sciences, les organisations professionnelles ou commerciales, les amateurs de littérature et d'art : ses matériaux, égrenés tout au long de l'année, puis réunis en volumes sous reliure ou cartonnage pour résister au temps, répondent aux besoins de tels lecteurs. Ou l'inverse : les éditeurs ou les galeries publient un périodique ou un magazine pour soutenir leur catalogue, promouvoir leurs artistes, tester de nouvelles formules ou fidéliser leur public. Le phénomène s'étend aux estampes, à la fois comme prime aux abonnés et comme œuvres originales. L'étude d'un tel phénomène dans son envergure internationale mettrait en lumière les relations des périodiques avec le monde de l'édition, les galeries d'art, divers salons et cercles d'influence, ainsi qu'avec plusieurs formes alternatives de publication, de nouvelles idées, tendances et manifestes.
Comment l'histoire canonique de l'édition de livres et d'estampes s'amplifie-t-elle dès lors qu'on prend en compte les structures médiatiques – économiques et symboliques – qui accentuent le rôle des périodiques? Quelles questions émergent lorsqu'on considère les périodiques comme des moteurs clés de la culture de l'imprimé et de la culture visuelle, de la matérialité des publications, de leur valeur d'échange, et de leur fonction d'opérateurs culturels? Nous invitons à des communications, à des panels, et à des tables rondes autour de ces questions.
Les propositions pourraient inclure, sans s'y limiter:
Périodiques et maisons d'édition
Périodiques et galeries ou salons
Périodiques et réseaux d'imprimeurs
Économies des périodiques
Périodiques et intertextualité ; hybridation ; réinterprétation en un autre médium (remediation)
Parties; livraisons; suppléments; volumes annuels
Périodiques et estampes pour les abonnés
Périodiques et tirés à part
Périodiques et albums
Les périodiques comme volumes reliés/"livres"
Cultures périodiques quotidiennes
Cultures périodiques alternatives
Merci d'adresser vos propositions en français ou en anglais pour des présentations de 20 minutes (250 mots max.), des panels de trois ou quatre contributions, des ateliers d'une heure, ou d'autres formats adéquats, avec un bref CV (max. une page), à This email address is being protected from spambots. You need JavaScript enabled to view it. avant le 31 janvier 2018.
Deadline extended: ESPRit Postgraduate Workshop on Periodical Studies (26 June 2018, Paris-Sorbonne)
(French version below)
Applications are invited for a day-long postgraduate workshop on periodical studies at Paris-Sorbonne on 26 June 2018 as part of ESPRit's Seventh Annual International Conference, 'Periodicals In-Between: Periodicals in the Ecology of Print and Visual Cultures' (Paris, 27-29 June 2018 at the Bibliothèque nationale de France, see the corresponding CFP at http://www.espr-it.eu/).
About ESPRit
The European Society for Periodical Research is an international scholarly organisation that promotes, fosters and disseminates research on all aspects of European periodical cultures from the seventeenth to the twenty-first century. It has a thoroughly interdisciplinary agenda and multilingual approach, and transcends specific thematic interests. Though its emphasis is on European periodical research, it also welcomes research extended to other related cultural areas (the Americas, East Mediterranean, Maghreb, etc.) ESPRit's core publication, the Journal of European Periodical Studies (http://ojs.ugent.be/jeps), a biannual peer-reviewed online journal, publishes research from a broad range of critical, theoretical and methodological perspectives, including, but not limited to, cultural history, literary studies, art history, gender studies, media studies, history of science, and digital humanities. As the official journal of ESPRit, the Journal of European Periodical Studies offers scholars a forum for sharing their research and exchanging ideas across disciplinary borders.
About the Workshop
The Workshop is for Masters & PhD candidates who wish to participate in the organisation's research activities. Sessions will focus on: (1) different theoretical and methodological approaches to periodical studies, which will be explored in workshop format with participants; and (2) the preparation of graduate researchers for professional engagement in the field of periodical studies. Selected candidates will have the opportunity to present their work and receive personalised feedback from workshop moderators. Confirmed workshop moderators include leading periodical scholars, Prof Laurel Brake, Prof Anne-Rachel Hermetet, Prof Matthew Philpotts, Prof Evanghelia Stead, Dr Céline Mansanti, Dr Hélène Védrine, etc.
The workshop will offer the opportunity to connect with people who are at a similar stage in their career as well as support and advice from later stage scholars and experts in the field.
Application Process
Please forward the following in English and/or in French via email to This email address is being protected from spambots. You need JavaScript enabled to view it. by 15 February 2018:
a cover letter explaining your reasons for applying to the workshop (max. two pages)
a brief CV (max. two pages, min. 11 point)
an abstract of your major research project (max. 500 words)
a paper on the role of periodical studies in your research (max. 1000 words).
We regret that we are not in a position to offer travel bursaries at this point but the conference fee will be waived for selected participants to the workshop. Participants will be selected by a specific scientific committee with the agreement of the ESPRit Steering Committee. Their decision will be communicated to all applicants by 15 March 2018. We very much look forward to hearing from you.
Atelier Master/Doctorat ESPRit : études sur les périodiques
Paris-Sorbonne, 26 juin 2018
Concernant ESPRit
La Société Européenne pour la Recherche sur les Périodiques (European Society for Periodical Research) est une société savante internationale qui promeut, encourage et diffuse la recherche sur tous les aspects des cultures périodiques européennes du 17e au 21e siècle. Ses objectifs sont résolument interdisciplinaires, son approche multilingue, et sa perspective transcende les études thématiques étroites. Centrée sur la recherche des périodiques européens, elle accueille aussi des recherches élargies à des aires culturelles collatérales (Amériques, Méditerranée orientale, Maghreb, etc.). La publication principale d'ESPRit, le Journal of European Periodical Studies (http://ojs.ugent.be/jeps), revue semestrielle en ligne, évaluée par les pairs, publie des articles de recherche relevant d'une vaste gamme d'approches critiques, théoriques et méthodologiques, incluant, sans s'y limiter, l'histoire culturelle, les études littéraires, l'histoire de l'art, les études de genre, les études de médias, l'histoire des sciences, et les humanités numériques. En tant que revue officielle d'ESPRit, le Journal of European Periodical Studies propose aux chercheurs une plate-forme de partage de la recherche et d'échange des idées par-delà les limites disciplinaires.
L'Atelier
L'Atelier s'adresse aux étudiants actuellement en Master ou en Doctorat qui souhaitent participer aux activités de recherche de la société. Les séances seront centrées sur : (1) différentes approches théoriques et méthodologiques des études périodiques, explorées lors de l'atelier avec les participants; et (2) la préparation des jeunes chercheurs en vue de leur implication professionnelle dans le domaine des études sur les périodiques. Les candidats sélectionnés auront l'occasion de présenter leur travail et de recevoir un retour personnalisé par les modérateurs. Les modérateurs de l'atelier incluent des chercheurs reconnus du domaine comme Laurel Brake, Anne-Rachel Hermetet, Matthew Phillpotts, Evanghelia Stead, Céline Mansanti, Hélène Védrine, etc.
L'atelier offrira aux participants l'occasion d'entrer en contact avec d'autres jeunes chercheurs à un niveau similaire d'études. Ils bénéficieront en outre du soutien et des conseils de chercheurs et d'experts du domaine plus avancés dans leur carrière et leurs travaux.
Procédure de candidature
Merci d'adresser les pièces suivantes, en français et/ou en anglais, par e-mail à l'adresse This email address is being protected from spambots. You need JavaScript enabled to view it. au plus tard pour le 15 février 2018 :
une lettre de motivation expliquant les raisons de votre candidature (max. deux pages)
un bref CV (max. deux pages, caractères min. 11 point)
un résumé de votre projet de recherche principal (max. 500 mots)
une synthèse sur le rôle des études sur les périodiques dans votre recherche (max. 1000 mots).
Nous regrettons de ne pouvoir prendre en charge les frais de transport, mais les candidats sélectionnés pour l'atelier bénéficieront de la gratuité des frais d'inscription au colloque Les Périodiques comme médiateurs. Les participants seront sélectionnés par un comité scientifique ad hoc en accord avec le comité de direction d'ESPRit. La décision sera communiquée aux candidats au plus tard le 15 mars 2018. Nous espérons vivement que vous accepterez de répondre à cet appel.
ESPRit 2018 Website Online
(French version below)
Periodicals In-Between (27-29 June 2018, Paris)
Dear ESPRits
the website of the 7th international ESPRit conference is now operational (Paris, 27-29 June 2018, preceded by a Master/PhD Workshop 26 june 2018) at this location: https://esprit2018.sciencesconf.org/
You will find all the necessary information and a dedicated page to register.

Please note:
Registration will be effective until June 18 (deadline) for the practical organization to be up to standards
Please consult the June 27 programme first and choose where you will have your coffee (morning and afternoon) depending on the session you wish to attend.
Once you register, please fill in the practical questionary, using this link: https://eprit2018.typeform.com/to/LxLuMX. We need this practical information to organize the conference as best possible.
We have put online the documents we think important in order to inform and guide you, if you find that additional information would be desirable, please do not hesitate to write to us et ESPRit 2018 <This email address is being protected from spambots. You need JavaScript enabled to view it..

Looking forward to welcoming you to Paris,

Best regards,

Evanghelia Stead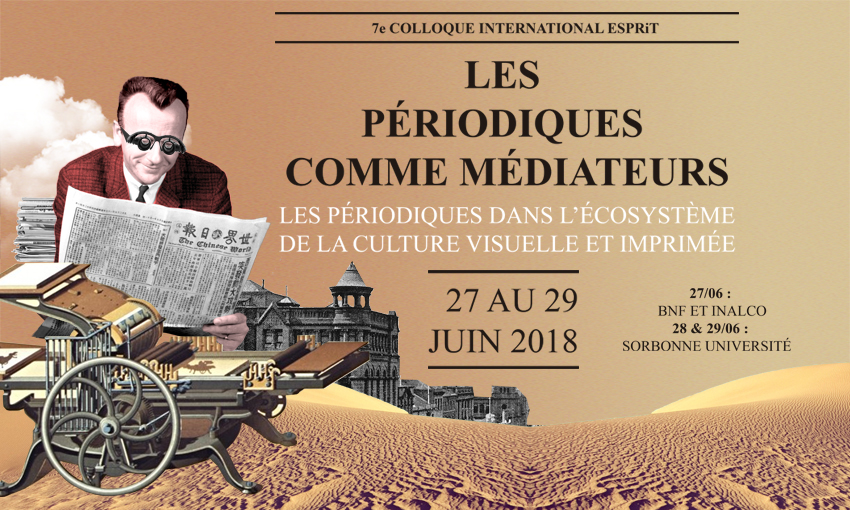 ESPRit 2018: Suggested Hotels
Les prix sont à titre indicatif, sur la base d'une nuit pour un adulte.
Prices are given on an indicative basis as per one night for an adult.
Hôtels proches de la Sorbonne (accès à la BNF par le RER C à prendre à Saint-Michel, ou par le bus 89 direction Porte de France)
Hotels near Sorbonne University (access to the BnF by RER C, station Saint-Michel, or by bus 89 direction Porte de France)
Hôtel Saint-Paul ****
43 rue Monsieur le Prince
75006 PARIS
Tél. 01 43 26 98 64
https://www.hotelsaintpaulparis.com/
This email address is being protected from spambots. You need JavaScript enabled to view it.
À partir de 189 euros, avec petit déjeuner / From 189 euros including breakfast
---
Best Western ****
Le Jardin Cluny
9, rue du Sommerard 75005 Paris
33 (0) 1 43 54 22 66
http://www.hoteljardindecluny.com/
À partir de 198 euros/ nuit (si 2 nuits) / From 198 euros/night (min 2 nights)
---
Select hôtel ****
1 place de la Sorbonne
75005 Paris
33 (0)1 46 34 14 80
http://www.selecthotel.fr/
À partir de 174 euros / From 174 euros
---
Hôtel Design Sorbonne ***
6, rue Victor Cousin 75005 Paris
https://www.hotelsorbonne.com/fr/
33 (0)1 43 54 58 08
This email address is being protected from spambots. You need JavaScript enabled to view it.
À partir de 163 euros / From 163 euros
---
Hôtel Central Saint Germain ***
3, rue Champollion
75005 Paris
33 (0)1 46 34 14 20
http://www.hotelcentralsaintgermain.fr/
À partir de 198 euros / From 198 euros
---
Hôtel Belloy Saint Germain ****
2 rue Racine
75006 Paris
33(0)1 46 34 26 50
http://www.hotel-paris-belloy.com/
This email address is being protected from spambots. You need JavaScript enabled to view it.
À partir de 231 euros / From 231 euros
---
Mercure Paris - La Sorbonne ****
14, rue de la Sorbonne
75005 Paris
https://www.accorhotels.com/fr/hotel-2897-hotel-mercure-paris-la-sorbonne-saint-germain-des-pres/index.shtml
33 (0)1 56 24 34 34
This email address is being protected from spambots. You need JavaScript enabled to view it.
À partir de 260 euros / From 260 euros
---
Hôtel Parc Saint-Séverin****
22 rue de la Parcheminerie
75005 Paris
http://www.paris-hotel-parcsaintseverin.com/fr
33 (0)1 43 54 32 17
À partir de 251 euros / From 251 euros
---
Hôtel des 3 collèges ***
16, rue Cujas
75005 Paris
https://www.3colleges.fr/fr/
33 (0)1 43 54 67 30
This email address is being protected from spambots. You need JavaScript enabled to view it.
À partir de 115 euros / From 115 euros
---
Hôtel Claude Bernard Saint Germain***
43 Rue des Écoles, 75005 Paris
https://hotelclaudebernardparis.com/
33 (0)1 43 26 32 52
À partir de 143 euros / From 143 euros
---
Hôtel Cluny Sorbonne**
8, rue Victor Cousin
75005 Paris
http://www.hotel-cluny.fr/
33 (0)1 43 54 66 66
À partir de 99 euros / From 99 euros
---
Hôtel Cujas**
18, rue Cujas
75005 Paris
https://www.cujas-pantheon-paris-hotel.com
33 (0)1 43 54 58 10
À partir de 108 euros / From 108 euros
---
Hôtel du Brésil**
10 Rue le Goff
75005 Paris
https://bresil-paris-hotel.com/fr/
+33 (0)1 43 54 76 11
À partir de 99 euros / From 99 euros
---
Hôtel des Mines
125 Boulevard Saint Michel
75005 Paris
http://www.des-mines-hotel-paris.com/
À partir de 120 euros / From 120 euros
---
Hôtel du Collège de France
7 rue Thénard
75005 Paris
http://www.hotel-collegedefrance.com/
33 (0)1 43 26 78 36
À partir de 140 euros / From 140 euros
---
Auberges de jeunesse – MIJE / Youth hostels – MIJE
3 adresses dans le 4e arrondissement (quartier du Marais), en plein centre de Paris. / Three addresses in the 4th arrondissement (in the Marais), in the centre of Paris.
https://www.mije.com/auberge-jeunesse-paris
This email address is being protected from spambots. You need JavaScript enabled to view it.
33 (0)1 42 74 23 45
À partir de 60 euros pour des chambres privées individuelles avec petit-déjeuner (+ adhésion au réseau MIJE à régler) / From 60 euros for a private individual room with breakfast (+ subscription to the MIJE network on top)
---
Hôtels dans le sud de Paris, proche de la ligne 4 du métro, menant au Quartier latin (pour rejoindre la BNF, prendre la ligne 6 à Denfert-Rochereau, dir. Nation, arrêt Quai de la gare) / Hotels in the South of Paris, close to tube line 4, leading to the Quartier Latin (to join the BnF, take line 6 at Denfert-Rochereau, direction Nation, get off at Quai de la Gare stop)
Hôtel du Lion**
1 avenue du General-Leclerc
75014 Paris
https://paris-hotel-lion.com/fr/
33 (0)1 40 47 04 00
This email address is being protected from spambots. You need JavaScript enabled to view it.
À partir de 95 euros / From 95 euros
---
Hôtel Le Victor Hugo
52 rue Louis Rolland – 92120 Montrouge
http://www.hotel-levictorhugo.com/
À partir de 78 euros / From 78 euros
Au pied de la station Mairie de Montrouge, métro ligne 4 / Next door to station Mairie de Montrouge, tube line 4
---
Hôtels proches de la BNF (accès à la Sorbonne en prenant le RER C, descendre à la station Saint-Michel) / Hotels close to the BnF (access to the Sorbonne by RER C, get off at Saint-Michel stop)
Ibis Style Paris Tolbiac Bibliothèque de France
21 rue de Tolbiac
75013 Paris
33 (0)1 45 84 61 61
À partir de 147,25 euros / From 147,25 euros
---
Appart'City Confort Paris Grande Bibliothèque
70, avenue de France
75013 Paris
https://www.appartcity.com/fr/destinations/ile-de-france/paris-1/paris-grande-bibliotheque.html
33 (0) 1 79 97 52 00
À partir de 150 euros pour un studio / From 150 euros for a studio
---
Quality Suites Bercy Bibliothèque by HappyCulture
15 Rue de Tolbiac
75013 Paris
http://www.hotel-paris-bercy.com/
33 (0)1 53 61 62 00
À partir de 165 euros / From 165 euros
---
Quelques hôtels moins chers, en proche banlieue parisienne / A few less expensive hotels, at close Parisian suburbs
Apparthotel Access Paris Quai d'Ivry
50 boulevard de Brandebourg
94200 Ivry-sur-Seine
Tél : +33 1 452 151 00
https://www.adagio-city.com/fr/hotel-8367-aparthotel-adagio-access-paris-quai-d-ivry/index.shtml
À partir de 82 euros pour un studio. Possibilité d'appartements avec plusieurs couchages.Proche de la station Ivry-sur-Seine du RER C, menant à la BNF et au Quartier latin/ From 82 euros for a studio. Appartments with several beds available.Close to RER Station Ivry-sur-Seine, leading straight to the BnF and the Quartier Latin.
---
Kyriad Hotel Paris Porte d'Ivry
1-11 rue René Villars
94200 Ivry-sur-Seine
Chambre à partir de 80,50 euros / From 80,50 euros for a room.
Une trentaine de minutes à pied de l'INALCO et de la BNF / About 30 min from the INaLCO and the BnF on foot.
Proche du M7, pour le Quartier Latin (changer à Jussieu, pour prendre la ligne 10 du métro, dir. Boulogne, arrêt Cluny-Sorbonne) / Close to tube line 7 for the Quartier Latin (change at Jussieu, and take line 10, direction Boulogne, get off at Cluny-Sorbonne stop)